Part One: Harry Potter and the Built-In Bookcases
It was another two-week long wait for updates, we've kicked it into high gear to prepare for carpet. However, working every night leaves little energy for website code.
In any case, here is PART ONE of the update, The rest is on the other camera, so they aren't necessarily from the same day/week.
Ron and Mike started the bookcases next to the fireplace.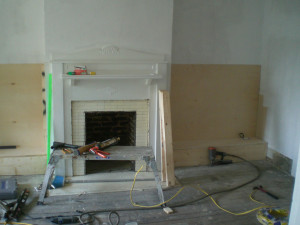 Here is a basic layout of how high they will go.
Ron yells out a massive amount of measurements and angles, while Mike scribbles things down, man they're fast.
The yard is filled with sawdust after this week.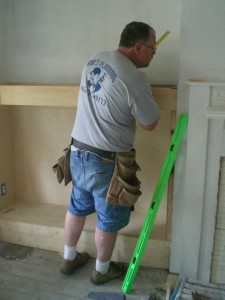 They're starting to take shape.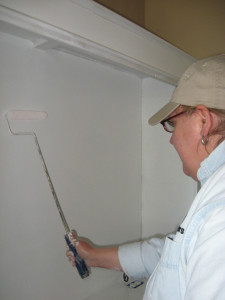 Sandy threw a coat of primer on the cases.
Here they are! The shelves are not installed yet as they're movable and we dont know what goes on them yet. Also you'll notice in this picture that the walls are painted (more on that in Part 2).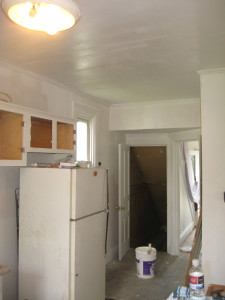 The kitchen was so gross that I had to use a palm sander to get the grease/food grime off the walls. Then I had to wash them and put this primer on.
Sandy and Heather pulled the gross contact paper off of the kitchen cupboard shelves.
It smells terrible.
Jess primed the trim upstairs in the hallway.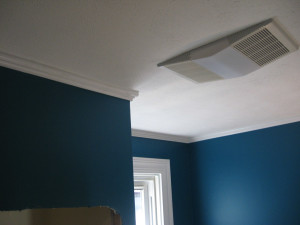 The moulding is up in the bathroom!
The wainscoting and chair rail are in and ready for paint.
Mike caulked the wainscoting.
We are going to be recycling original casing from other windows and doors in the bays, but, Ron had to build a new windowsill.
We decided to recess the sill into the curve of the bay.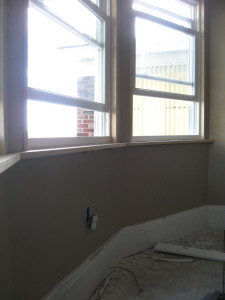 Here's the sill installed.
The crown moulding is installed in the living room.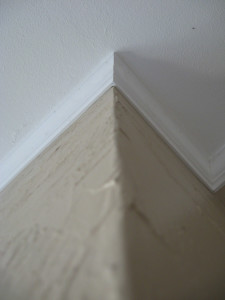 This stuff really dressed up the room.
Also this week, Ron and I loaded the scrap metal form the house (690 lbs. worth) into the van. Then he and Mike unloaded it at the scrap yard. Finally it's out of the way.
to be continued…