A hole of a whole different sort.
I bet it was loud.
Today's work was minimal, Jess and I stopped at the house today to pick up the camera, and to paint the ceilings in 2 rooms before coming back to get some dinner.
Saturday, however, we got a ton of stuff done! Jessie's aunt, uncle, and cousins came for the holiday and brought their work clothes!
The biggest discovery happened on Friday when Ron and I were preparing for a vacuum test of the heating system…
We had a wet spot on the foyer ceiling, after removing a few floorboards in the master bedroom we located this…
This is schedule 80 black iron pipe. This elbow was blown apart upstairs, most likely at the same time as the iron radiator in the dining room exploded. Ice is a powerful thing.
We replaced the elbow and broken pipe with L copper.
Uncle Gary and Ron put up blueboard (which is purple) which is a water/mold/mildew resistant drywall.
Here, Gary demonstrates the proper way to screw up drywall. (pun)
The tub surround is installed and walls are up around it. Also a linen closet has been built to the right.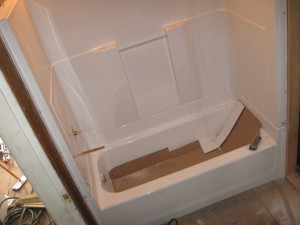 LOOK! A tub has appeared!
Aunt Kim, Sandy, Matt and Ben tackled the primer in the guest room and the dressing room.
The awful yellow filth is gone, now covered with a nice clean chalky white. Hooray!
Matt and Ben are a serious force when it comes to painting closets and the lower halves of walls.