Things are coming together.
Carpet has been scheduled. The deadline for all other projects is now Thursday June 18th.
Mom and Dad came down and helped on Saturday! They were in town for Collin's graduation. Congrats Collin! Also, Jessie and Dad had a birthday this weekend! Jess was Saturday and Dad was Sunday! HAPPY BIRTHDAYS!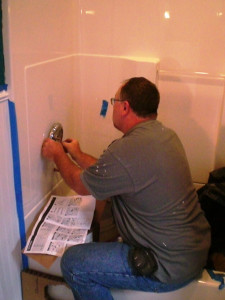 In preparation for the water in the bathroom being turned on. Ron attaches the fixtures to the tub.
Here is the device to activate water flow in the shower area.
Finally! We have a real toilet, one that flushes and everything! Also, if you notice there's a cool classic chessboard ceramic floor!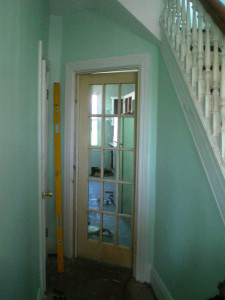 We received this nice glass door from Karin and Robin, we'll repaint and embellish it later.
Mike, Ron, Sandy, Amy, and Jess started to paint the kitchen cabinets and trim around the house.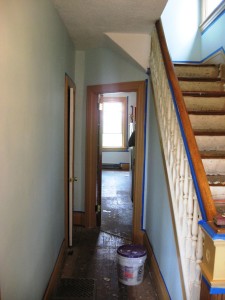 Jess is a true visionary with color, nobody believed that her colors would work out, except me of course.
Here's the hallway trim, still need to finish the front of that electrical junction.
Here are the kitchen cabinets after painting.
Here are the cabinets and shelf over the range.
Mom and Dad came to help! Here Dad tries to figure out how this place got to be such a mess!
A master at work, he must have experience with sawdust.
Mom worked on the windows while dad swept floors.
I think I need to take lessons from Mom on how to clean windows. When she got done with this one, it looked like the glass was gone.
Sandy finished the final sanding and cleaning of the railing so that it can be stained and painted where it needs it.
My closet has doors! I still have to put the handles and catches on tonight.
I put up the tracks for the movable shelves in the living room.
Jess refinished the blades of the fan for the guest room.
We don't have any more brass in the house. So I am refinishing this chandelier.
Here are all the little individual accent pieces.
I rewired all of the sockets for safety. Here it is with the new gray powder coat looking finish.
Jess has been saving this crystal chandelier in her Dad's garage for years. After about 3 hours of love and cleaning. Here it is.
This thing looks great and now graces our front foyer as the first sparkly thing you see, unless Jess answers the door.