The weekend of destruction is over.
On Saturday, Phil came over and we tore out the plaster and lath in the kitchen, and the wall between the bathroom and master bedroom. Also, the sink, cabinets, lights, trim, and vanity from the bathroom were removed.
On Sunday, we started with a full crew. Jessica, Ron, Sandy, and I began the day. Soon Aunt Amy arrived, then Aunt Lynne and Michaela arrived to help too.
Saturday:
Kitchen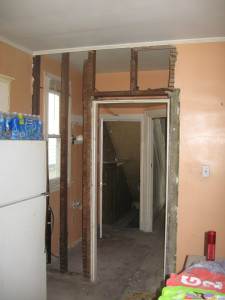 Here's the wall in the kitchen after Phil and I removed the lath and plaster.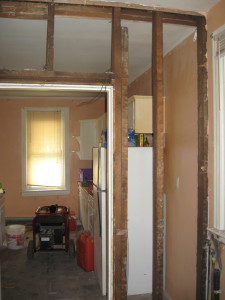 Here's the wall in the kitchen from the front door side.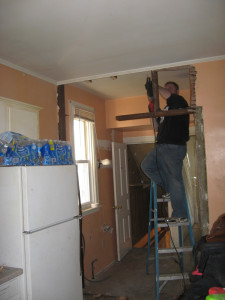 Ron had a big Sawzall which made quick work of the nails and wall studs.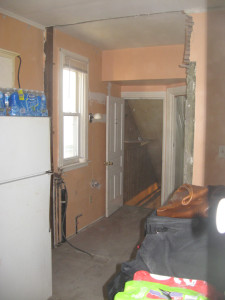 The kitchen almost doubles in size with the wall removed.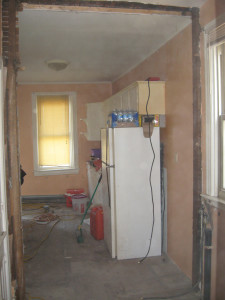 We'll have a nice 12 light door when this construction is done, and it will go in the angled doorway from the foyer to the new larger kitchen.
Master Bedroom/Bathroom
From the bedroom to the bathroom. This wall has to get out of the way so the bathroom can expand.
From the bathroom to the bedroom.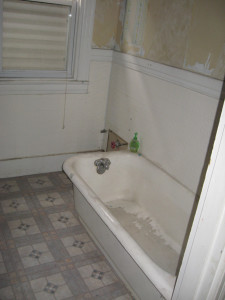 The old tub, I think we're going to have to smash the thing to get it out. Too bad.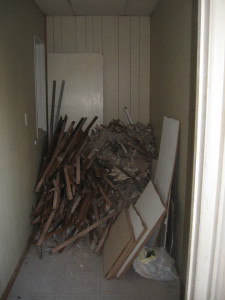 This is how much plaster and lath we tore down and cleaned up at the end of Saturday's work.
Sunday:
Jess uses her trusty hammer to destroy the wall above the old tub.
Amy swings her hammer like the wall called her a name she didn't like.
Sandy found the best dirt above the ceiling, also, probably the most danger!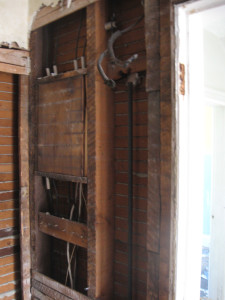 This is the back of the junction box in the hall, we're going to move it over to this side and install breakers when we pull the new wiring.
The last of the bathroom lath.
Wow someone should clean this bathroom.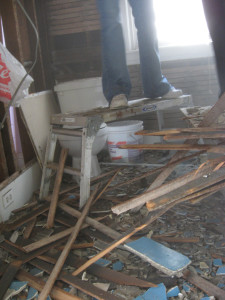 Watch your step!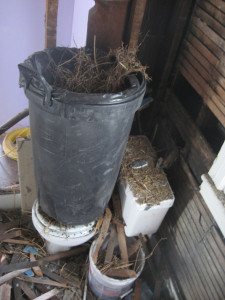 We found a massive bird's nest up in the rafters. Yes, you could see daylight.

The bath tub is full of plaster, lath and nails. Maybe we can get it cleaned tomorrow night.
Here are a few of the old wires in the wall that need to be re-done.
Plumbing
Some of the old valves for the water pipes were broken, so we had to install new ones.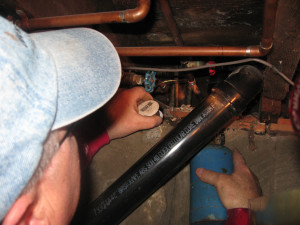 Ron solders caps on the lines we had to cut off that went nowhere.
Wallpaper is the devil.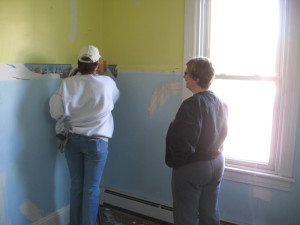 Amy has a wallpaper steamer thing, that can remove those stupid wallpaper borders really easily!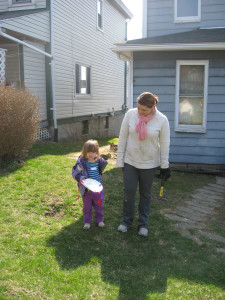 Michaela came over with Lynne so she could help by hanging with Jess and coloring pictures.
Hopefully I'll have more pictures as things progress. Tomorrow night is more wiring, probably no pictures. We should finally have electricity on Monday or Tuesday.
HOORAY!