Project: Quasicade
This is the first post of many, I'm building a chronicle of a conversion of a 1994 Atari Primal Rage cabinet into a slimline Multi-Arcade Machine Emulator (MAME) cabinet.
A few months ago I took my old project, a restored 1977 Bally Eight Ball pinball machine to a collector and restorer downtown.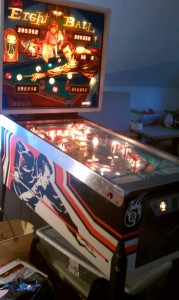 I traded him for various parts and pieces, and a full size slant-back cabinet with no monitor. As it sat, it was currently configured as a "Big Buck Huntin'" lightgun setup.
My buddy and I were woefully unprepared for how heavy the cabinet was. Alas, we stripped the gun from the unit and loaded it up.
Upon arriving in the shop and further inspection, I discovered it was originally born an Atari Primal Rage machine, built sometime in 1994.
This cabinet features a steeply slanted top-back section, making it ideal for a slimline cabinet, as the slant will allow for attic ceiling installation.
My studio is in my attic, so it's final location plays a large part in the project.
The machine was in my dining room for the first few nights until I could clear space in the shop.
My wife was fairly unhappy about it being in the living room, and it did have a very interesting smell considering years of storage in bars/arcades.
I couldn't resist tearing stickers off, and throwing an old PC on the tray and testing it.
Stand by for more build logs coming soon!
I'll keep you posted.