Initial Findings and moving the machine.
Just picked up the 1977 Bally Eight Ball machine yesterday February 21st 2009.
Here are the initial observations. This is a compilation of several build log entries from before this site was online.
---
Here are the original sales brochures: for the machine
And here are some schematics:
Funny, the serial number says that it was built on February 21st 1977, its the machine's birthday!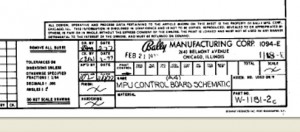 ---
Moving the machine
The Eight Ball machine was found in a basement, left dusty and alone in a corner for years. The owner said he's not had it running since the late 1980s.
But, it still lights up.
He said I could have it, but I paid him a bit for his troubles and for good karma.
Wow was this thing hard to move. The backbox does not fold down so it makes it very hard to move. Perhaps next time I'll try to unbolt/unwire it.
When Eight Ball is plugged in, most of the lights light up but the machine never fully boots.
---
Here's a list of things I notice to be damaged or worn out.
Broken things that can't be fixed

Coin-Door lock cylinder has been drilled out. It will need to be replaced
The plastic part of the right flipper is pretty worn out and cracked, it is missing the rubber part so it looks like it's been gone for a while.
The solenoid that makes the left flipper move is totally smoked. It looks like it may have burned up, as it is charred.
There are a few transistors and chips in the backbox that are obviously fried/melted.

Burnt Lights

Top Left Backbox #2
Playfield lanes between 1 and 2
Left side of bankshot lane
Playfield 4, 15, 13 ball lights
Lane 4, 11 ball lights
"Pinky" kicker light
"Fonzie" kicker light
---
Initial exploration
I found a way to run a test of the Machine Systems using a red button inside the coin acceptor. Using this I found why it won't turn on.
The test fails when it tests memory module U8. The CMOS and NRAM.
I removed and reset the PROM on the chip and reinserted.
ITS ALIVE!
I can get the machine to activate it's self test and fully boot to ready status now.
---
Other problems and fixes:
I found that some of the lights that weren't working are burnt, and some are just loose, so I fixed the ones I could, I've ordered #47 lights to fix the others.
The left flipper is totally fried, it doesn't move. I'll have to order a new solenoid.
The outhole kickback doesn't detect the ball, I bent the contact up a bit on the switch and now it works.
All of the rubber on the playfield is very dry and crumbly, I'll have to order a set.
The playfield needs waxed and cleaned, it seems to have needed this love for many years.
---
Another day of fixin' things:
All switches now seem to function.
One of the chimes (the lowest pitch) doesn't ever activate. I am unsure at this point if it is a solenoid or a wiring problem.
I took the backglass and hid it so it can't be scratched, as its an original hand painted, and has the artist's signature on the back, bonus!
I'll try to get some more pictures in later posts, as its not very photogenic in this stage.